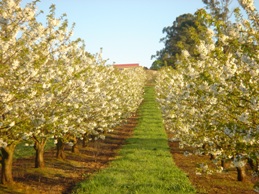 Cherry Varieties
At Cherry Haven, we have over 30 different varieties of cherries for you to choose from - mostly sweet cherries, and some white and sour cherries. Click here to see the land plan and plantings of the different varieties
Cherry Selection, Storage & Recipes
Having picked your cherries, you will want to make some scrumptious dishes with them, right? Click here for some recipes to tempt every palate. Have a look! We are sure you will find something new to try...
How to Pick Cherries?
Not sure you would even know HOW to pick cherries? We can help you with the basics by clicking here, and you will be well prepared before you even arrive. If you have questions, we can help you when you arrive as well.
The team at Cherry Haven look forward to seeing you soon among the cherries!
During the season:
Weekends Open 9am to 5pm
Monday - Friday Open 10am to 4pm
No bookings required
Entry fee: Adult $18, Children 4 - 13 years old $9, 3 & under free
Cherries you take home, weighed on exit, $14 per kilo.
Please subscribe for our newsletter & Facebook, for this season's up to date information.
Occasionally we have a very busy few hours on weekends - if the weather is perfect it's best to come early or late in the day!